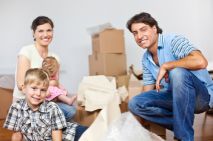 How to Reduce Stress When Moving Home in Canary Wharf
It is a well-known fact that moving house is one of the top rated most stressful things someone goes though in their lifetime. It is up there with having a child and getting divorced. So, if you are looking to move house and hire a Canary Wharf removals company, here are some tips to make it as stress free as possible.

1. Start early
Moving house Canary Wharf is always going to be a bigger job than you expect so it really is important to start early so that you can get a more accurate idea of the enormity of the task ahead. By starting early you can make sure everything is boxed and ready for your moving day as well as sorting out any problems that might occur in good time, so that you aren't stressed out on the day.

2. Get Quotes
It is always best, when looking for a Canary Wharf removal service, to get quotes from more than one company. Make sure they come and assess your items in your home so that you can get a more accurate quote and so that they can get a better idea of the scale of the job. This way you can compare the prices and choose the company that best suits not only your needs but your budget. As well as this, allowing the company to assess the size of the job will minimise stress on the day as the company will come prepared for the size of the job. If you don't allow them to get an accurate idea of the amount of things to be move you may find you have more items than expected and this might mean not all of them will be transported in the allotted time you have booked the company for.

3. List and Label
Before your removal company transports your items to your new home you will have to sign a document to say that everything has been loaded on to the truck so that you can't claim that things are missing. To make sure this is accurate and you don't miss anything, make sure that you label every box with what is inside it. As well as this, make a list of everything that is packed in to each alongside a box number. By giving one copy of this list to your movers and keeping one for yourself you can make sure that everything is definitely loaded correctly during your moving day. This is also useful when it comes to unpacking as you will be able to locate all your items quickly and efficiently.

4. Pack an essentials box
An essentials box should contain everything you will need for the 24hours during your move. This should include a spare change of clothes for each family member moving as well as any medicines and chargers that you will need during the day. Many people find that packing the kettle and tea bags in to the essentials box is a good idea as it means you can sit down and have a cuppa as soon as you arrive in your new home. Make sure that there are also snacks and something for lunch and dinner in the box so that you don't have to worry about going to the shop as soon as you move. Other essential items are soap and toilet roll because no one knows when nature is going to call!