Storage'S MAN AND VAN
Storage Units from London Man and Van Can Fit Any Need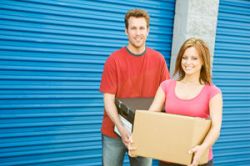 Since you have landed on our website, you must be interested in finding a Storage solution for some – or maybe even all – of your belongings. There are different reasons for renting a Storage unit and there are different types of Storage units, so read further to find out some of the ways to choose what you need when it comes to safe-keeping. Then, call us on 020 8746 4330 and we can answer any further questions you may have or go ahead and make a reservation. It's that easy. Before you get going, however, there are some important considerations to think about.

It is hard to get rid of furniture even if there is no space in the new home. We know how attached people can become to their things. That's completely normal. But if you've made the decision to sell, discard or donate some of your things or pieces of furniture after a move, you may need some time to get replacements. But even if you have already furnished the new place with different furniture, you mostly likely can't just leave all the old stuff out on the curb. You will likely need to arrange pick-up or drop-off of the items, and if you are selling them online, you may be holding on to them longer than you think. In any case, you will need a safe, secure place to store them where they won't be subject to weather conditions or bugs.

Self Storage is the perfect solution in your situation. Just choose a unit and load the items in. Then you can have access to them whenever you need to, like when you are able to rent a truck to transport them or if a charity is coming to pick them up. You will know that they are in the exact condition that you left them in – which might not be true if you store them in a damp garage.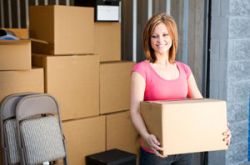 It is important to think of how long you will need the Storage unit for. We offer short-term and long-term leases with no obligation. That means that you can rent a unit for a few weeks or even a few years. But if you know ahead of time how long you will need the space for, you can save some money by using a longer-term lease. If you are storing items that you plan to get rid of, renting a unit for a short period of time will force you to take action. A long-term lease is a better option if you will be using the Storage unit as an extension of your home. This is often the case for people living in large urban areas where space is at a premium and few places have enough storage space within the home.

Once you have determined how long you think you will need the storage space for, it is a good idea to spend some time thinking about the size of the unit you will need to rent. You don't want to sign a contract just to find that your things won't fit inside! Before you start putting everything into garment bags and Cardboard Boxes and wrapping up all the furniture, do a price comparison of the different sizes of units available from our company. You may not need the large unit if you spend a day or two with your family members going through your items and deciding what not to keep. You may find that you can cut the pile in half, so that what goes into safe-keeping are actually the things that you care about and want to hold on to. There is no reason to store old clothing that no one wants to wear anymore. But there is definitely good cause to store things such as your wedding gown or baby clothes that were knitted by a beloved grandmother.

If you have sorted through your things and discarded anything you are sure you no longer need, you may still find yourself in need of a large storage unit due to the size of the items themselves. A canoe won't exactly fit into a small unit. Nor will a grand piano or a vintage car. But appliances and boxes probably can, unless you have a whole household's worth. Why does London Man and Van try to save you money? We want you to be 100% satisfied with the level of service. And our service includes helping customers decide what is practical for them.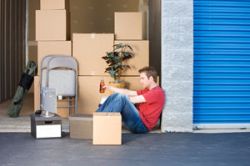 If your concern is more for convenience, comfort and ease, then a Storage unit can still be of use to you. If you are in the midst of a House Removal, you can rely on the movers to help you pack your things and simply have them unloaded at our Storage site. It couldn't be easier. You will wonder why you ever moved without the convenience of a Storage unit to cut down on the things that are unloaded into your new house. One of the advantages of Storage units is that you will be able to really judge what you own. Sometimes this is hard to do when things are stuffed away in attics and basements or shoved into the garage. By hauling everything out before taking it to a Storage unit, you will see all those things that you haven't laid eyes on in years, which is important to do from time to time. And if you are in the process of moving, you will be able to design the look of your new home as if it were a clean slate. This is very hard to do if you are surrounded by boxes and pieces of furniture that you don't need. And planning the look of your new home is one of the most exciting things about moving to a new home in the first place. So whether you want to start out on the right foot in a new place, or clean up your old on, we have the Storage place for you.