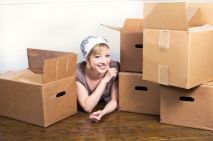 Hire Professional Removal Services EC2
Moving office is a big job, and if you have been charged with the smooth running of an office move then you've got to ask yourself, what went wrong for you to deserve this!? Joking aside, there are a great many things to know about when moving office, and it is rare that we will be well adjusted to making the right decisions on a move, as we rarely do it. The average human only moves house ten times in their lifetime, and for this reason, we never get used to the processes involved. This can mean that we get very flustered and panicked in the lead up to the move, as we feel the weight of such a large upheaval coming down upon ourselves. The easy way to make these pressures much less than they may seem is to start planning well in advance, and to hire professional removal services EC2, it can make your office removal a remarkable experience, in which you feel completely calm and in control. This will be a rare feeling for anyone who has tried moving house or office before, so it is worth aiming for just for the novelty!

First off, your removals service will have the experience of their trade. You may have moved house a couple of times, but in that move, it is unlikely that you needed to move loads of computers or delicate machinery, or even had to pack up and then immediately restart a filing system, in order to reduce the work hours lost to the move. A dedicated office removals company EC2 will be well versed in sorting these things out, and you can relax knowing that you are in capable hands, and you can get on with other stuff that it more sensitive to the office. When choosing your EC2 removals team, you should be looking to find a company who are old hands at the specific move that you need, so have a look at some online reviews for comments on whether these firms stood up to the text of moving other offices. If you can, find out what the names of other companies that they have moved are, to get an idea of the size of operation that they have been involved with previously.

You will likely be sorting out the packing of the office, as it can cost an arm and a leg to get the removers to do it for you, but in the case that you can afford this luxury, there is a lot to be said for getting the service put in place. The loading up of expensive computer hardware, as well as printers, scanners and photocopiers, can be a bit of an art, and those who are well practiced in it should give you the best bang for your boxes, knowing exactly how to protect each item, as well as how it will be stored and how to safeguard against damages in transit.

When you have selected your company, you should continue having meetings with them up until the day of the move. In these meets, you will be able to show them the office, as well as the new office, and make them aware of any stairs and tight doorways and corridors that they may have to get up or through. Alert them to heavy items, and make up a schedule for the day of the move, so that everyone is on exactly the same page.