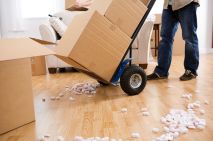 The Difference Between Removals Company and Man with a Van Services
The debate of how to go about your move can be determined by a great many factors. Usually the main factors revolve around the size of the move, and the budget that you have available to you and these can obviously affect each other. If you are having to move a large family home, then your budget will need to be larger than if you are just moving a few belongings from a small flat. If you find yourself in the middle of these affecting factors, and have to move a medium size house or flat, but do not have a huge budget with which to do it, you may need some help with the debate of man with a van services vs removals company! We have put together a few pros and cons with which you can ascertain which is the right service for you, and hopefully save you self a whole load of stress as well as a few quid!

Size is the first point of contention. If you are not sure how much stuff you have, or how large your transport needs to be, then you will have issues choosing your service. Look up the sizes of van on offer, and compare them to rooms in your house. While it may seem like you have far too much stuff to move in a van, remember, that with the help of a few friends, and even a couple of trips, or a particularly large van, you may still save money by avoiding a full on removals service. An issue with not using a removals company is that they will often provide valuations for free, with which you can get a clear picture of what you need, and how much you will be spending. With a man and van service you will not get this, just a flat fee per hour. The best situation would be to get a free consultation with a mover, and use the information to make the decision as to what kind of help you need. It will also allow you to gauge the size of transport that would be necessary, which will help you price the Van Man option.

Another major factor is distance. If you are dealing with a smaller man and van outfit, then they will likely charge you by the hour. If you use a larger company that provide a similar service, or a full on removals company, then it is more likely that they will provide you with a quote from the start. While the quotes may be worryingly high, you may well find that paying by the hour is more expensive, due to not knowing exactly how long the process should take. If you have a lot of help then nothing should be that arduous, and you will likely save money. However, if you are ill prepared, then it is likely that the hours will rack up and the costs will sky rocket. Distance will also add on time to your move, so having a quote can often be a good way of removing this problem. If you know the route and are used to the traffic situation in the area, then you are in a good position to take a chance on paying by the hour, or by the mile, as you can ascertain the cost from the start.

Whilst it may feel like there is far too much information to digest here, the realities of the matter are not that scary. If you give yourself enough time to prepare and compare quotes, then you should be fine, in that there will be no last minute surprises!