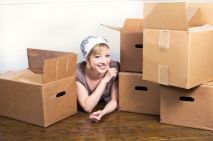 The Challenges of Moving House in Tufnell Park
We all get the itch to move on when it comes to property, the fun of making a home in a property can't be beaten, especially if you can afford the vast expense of redecorating a place and making it your own. There are many issues associated with moving house in Tufnell Park however, and so many things to think about can result in forgetting other little issues, which can sometimes mean disaster in the long run, as you struggle to get things done at the last minute costing time and money. We've compiled a few hints and tips to help even the busiest of movers avoid the panic and the stress of relocating.

Planning is key, you will get nowhere if you attempt to do everything off the cuff and at the last minute. Make a list of everything that you can think may go wrong, and have a friend check over it, as often a shift in perspective can help you with appreciating things that you would not have thought of previously. Having almost every outcome noted down will help you when things do go wrong, and you won't be surprised when they do!

Go over to the new house and have a look around. Make sure that you have a good idea as to what needs doing to make the place inhabitable and get arrangements going to get started as soon as possible. This is a perfect time to get any walls and ceilings replastered and painted, and any other decorating done. If there is no need for decorating then make sure that all the double glazing is in effect and the loft is properly insulated. These kinds of jobs are always a massive hassle, and much easier when the house is empty. Once everything major is sorted, then have the placed cleaned through and through, preferably by a professional cleaning team, who will be sure to give you the best deep full house clean for your time and money. If you can't afford to get professionals in, then it may make sense to enlist the help of your family or friends to come and pitch in. offer them a big family meal as a reward for their help, it's a great excuse to get the family around the table and have some fun!

Your family will also be very useful in helping you pack up your belongings if you decide to do it without professional help. The task can be very daunting if you face it on your own, and getting friends in to help break the back of the job will make it less of a stress for sure. make sure that whoever does help you is properly briefed however, as if someone does something wrong, then it will most likely be you that has to correct it! Make sure that boxes are adequately labelled and have a decent note of what is inside them written on the outside. This will help a lot if you need to get to something quickly, and will also guide you in where to lay the boxes when you arrive at the new house. Brief the removal team on where everything needs to go, and draw up a plan of the new place which shows them which room is which. Also note down where all the large bits of furniture go, as this will help massively when it comes to avoiding heavy lifting at a later date!

We wish you the best of luck with your Tufnell Park move, and hope that our tips will lessen the stress of the process!