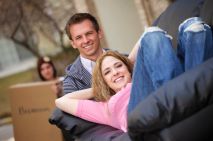 Moving House to W9 Made Easy
When moving house to W9, it is rare that the timings work out as perfectly as you will likely need them to. What are the chances that you are in a position to leave your place, and a new place that you love just happens to pop on to the market? It's pretty slim, so if you can find anything that you are happy with then it should be a major relief! It's a bit like finding love; what are the chances that there is someone out there that thinks you are as attractive as you find them? It's slim, but it works. The beauty with finding a partner however, is that you can live without one for a while, it is rare that you can live without a home for very long, so it can be a case of needing to stay at different people's places for a time, and in this case you'll need moving made easy with W9 storage units, where you can dump your belongings for a little while and focus on finding your dream new home!

Getting everything in to storage is a little like moving apartment, except that your new apartment is tiny, very dark and you fortunately won't be living there, at least, we hope not. The most commonly found storage units W9 are in large storage complexes where units are rented out all the time, and are usually found on industrial estates in large warehouses. A quick search online should throw up a few ideas as to where you should look to find a unit, but looking a little further, at different websites and even the local ads may well give you some insight in to the existence of privately owned, and potentially cheaper storage units in the area. Many people rent out garages and barns in the countryside for a lot less than you would pay for a 'proper' unit. These sorts of deals are usually based on the quality of the unit being less spic and span than a warehouse one, as well as the lack of overhead costs that the landlord will have to deal with, so can be worthwhile, depending on your situation.

The size of your unit can be quite hard to work out, with the variety available, and the case that you don't know the exact dimensions of your items. If you can, try and get everything that you need to store in to one room, and if possible, stack it all in to a corner. You should then be able to take measurements of the walls that would go around it, and base your decision on these measurements. You could also use the volume of the van that will be used to transport your items as a guide.

As mentioned above, there are different types of storage W9 available, which can be a blessing and a curse. If you are storing valuable items, then it is worth paying a bit more to make sure that they retain their value. Certain elements can affect your furniture and household goods if the unit is susceptible to them, like damp, rot, temperature change, and pests like mice. Be aware of the possibility of these no matter where you store your things, and check regularly that your items are always in good shape. There is a good chance that even the seasonal changes can be magnified in a metal room, causing warping to wooden items, which can ruin valuable furniture or musical instruments.