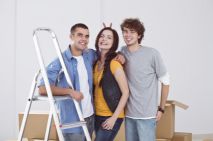 How do I prepare to move to a new place?
Moving to a new place is a big step and there are a lot of things you need to know about your rights and obligations, contracts and finances. This article will help you clear up a few question marks.

When you move away from home a condominium may not be the first thing you think about, the loans you might take to buy a place will probably give you a higher monthly fee than a place that you rent. But it could really be a future investment.

When you buy a condominium, you make a long-term investment which you may find useful later in life. The equity you invest in property law can in many cases easier for you when you later want to buy another and a probably more expensive place. The association owns the property including all apartments and everyone in the housing association has the same rights and obligations. It is the members themselves who decide how the house should be managed, what rules apply and how to handle costs of maintenance, service etc. There is therefore no landlord to call when it comes to accommodations. Instead, you will have contact with a person in the tenancy board like a superintendent or nominee. You have everything to gain by being active in your housing society. You can take part of decisions made about the house and you might even be willing to be elected to the board. It is an interesting and rewarding assignment that will give insight into how your housing cooperative is handled. The board is responsible for all the ongoing work of the housing association.

If you are considering buying an older condominium, you should not be too quick to decide and sign a purchase agreement. There are a lot of things you should do first. The buyers have the duty to investigate, which means that it is you who must check that the apartment and the house is in the condition that you pay for. Should you detect errors in hindsight, you will most likely pay the repair costs yourself. Take proper time to investigate and do not be afraid to lift the carpeting and watch behind cabinets and shelves where most flaws hide. The seller also has a 'duty to inform' which means that he must enlighten you as a buyer of things that you should know. For example, if there are any errors in the apartment or that they plan to raise the fee. However, sellers are not always that good at providing with information about errors and deficiencies that may exist so be very critical and careful and leave no cranny uninspected; it may be difficult for you to prove that the seller knew of an error that was in the apartment and didn't tell you.

It may be helpful to make a list of things that are important to you when buying a condo. Such a list could contain basically anything. For example: What will you find in the kitchen, How does the staircase look? Are there any aerial sockets in the bedroom?

In an older house can be a bit so-so with the planning of the rooms. Maybe the apartment has been rebuilt many times or been merged with the neighboring apartment. Then it can sometimes be tricky with furniture planning. A cozy fireplace cannot always compensate for other deficiencies even if it helps. Do not let the charm blind you!