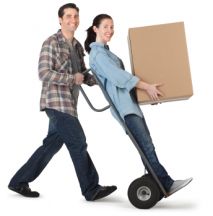 How can self storage benefit your moving experience?
Self storage containers come in many shapes and sizes. They range from large outdoor containers with enough space to store multiple cars, to indoor lockers, which can be used to store documents and stationary. They have many uses too, they can be used as temporary holiday storage, to store season specific equipment out of season, and finally as a valuable storage asset for moving home. This is the use I'll be focusing on.

Let's just say you're moving to Putney; the starting point of many Olympic rowing champions and the district that plays host to numerous Thames boat races. How can self storage benefit your moving experience? Well, self storage can be used as a temporary solution if your new house isn't ready to move into yet. You could store the larger appliances like the fridge/freezer if your temporary living arrangement is lacking the space to do so. It's also useful if you're driving into this SW15 postcode from far away, and multiple trips are required. Goods can be stored in a container closer to your new home while you make said journeys.

If you think you'll have trouble with moving large and heavy objects on a regular basis, or if you think you'll be too busy, then some companies offer a 'mobile' storage service, where they will roll up in a van, and take them off to their containers themselves. Then, as long as they offer instant access, will bring them back to you at a moments notice. Just something else to think about.

So we've established that self storage may be of some use to you. Here are a few tips to make sure you store your stuff the right way; for starters, as with any moving operation, make sure you store your goods in sturdy boxes. Especially if there's a possibility they're going to be stored for longer than a few days. That way, you can guarantee that the box is going to survive the wear and tear of extended and repeated storage. When storing furniture, wrap them up tightly in plastic. This keeps any moisture and dust off and the bugs out, so when you take it out of the container, your smartly upholstered furniture won't smell horrible or be marked with horrendous stains. The same tips apply to storing clothes, blankets, mattresses and other fabric related items – wrap them up tight!

When stacking boxes, don't put them too high and be careful to have the heavier ones at the bottom. This will prevent the lighter boxes from being crushed, and the heavier ones from crushing you and breaking all of the valuable contents. Also keep in mind of boxes that may be storage for longer, and store them nearer to the back, so when you unload, they will be out of your way.

If you think extra security is necessary for your valuables, then having your own extra padlock is a good idea. Get a good secure one, and change the combination on a regular basis like you would at home. Keep in mind, however, that many of these self storage firms tout ultra high security, and extra precautions aren't required – but if it will give you extra piece of mind it's worth a try.

So, with your goods safely locked away, you can get on with the rest of your move with the added security that your goods are under a safe lock and key, and will remain safe until you're ready for the second wave of unpacking. There's no safer place for your goods.