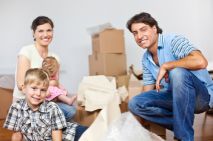 Moving From Your Family Home
Halls of residence: mainly for first year students, halls can be fun and fuss-free. With bills included in the price, this type of accommodation can be a luxury for students. Halls are designed for socialising. Meeting people and getting to know your flatmates is the most important part of first year living. These people might become your second year housemates so choose wisely. There are so many types of halls of residence that there really is something to suit everyone's likes and needs.

House share: for second year and beyond, a house share is perfect for less fun and more studying. Saying that, second years tend to balance both quite well. House shares aren't off the cards for first-years but it's a lot better to start off gently and get used to living on your own through an easy halls-scheme. Houses are great for experiencing renting for the first time and the house-hunt is all part of the fun. Make sure you go through estate agents you are recommended and you choose an area populated with other students.

Private or parent-owned: these can be a little pricier but a lot more private. Expect to pay more but live in a securer property. These types of accommodation can help you feel more at home and renting a room in someone's home can work out cheaper. Maintaining your personal privacy is a huge bonus to renting privately or a parent-owned property.

Where to look

Student accommodation office: your university will have an accommodation office and they can help you find somewhere to live. Normally when you apply for a university you will be given the option of where you like to live but bare in mind, if you get a place through clearing, you may have to do this alone and without their help. The accommodation office will have a list of letting agents and local landlords that are trusted by your university. They can also help you if you get stuck.

Landlords and agents: use a trusted estate agent to find a property, and your landlord as your first point of call; the two work together to find suitable tenants. Houses can go on the renting market at any time but normal January or February so make sure you're sorted, especially for your second/third year house, well in advance.

Online: quick and easy – everything you need to know is in one place. The web does your research for you and you make the decision. There are plenty of sites with suitable, trusted accommodation and letting agents, it's up to you to go through them all but you can use clever filter systems to find what you're looking for, such as a four bedroom house for instance.

When to sign

The final checklist: every tenants needs are different, but anyone who is looking for student accommodation needs to consider location, security, furniture, noise, space, condition and plumbing. Transport and walking distance to campus are also very important. Your accommodation needs to tick all the boxes.

Deposits and damage: you will have to pay a deposit before you get your keys. Make sure your deposit is protected by a TFP (tenant deposit protection scheme) and you will be guaranteed it back at the end of your tenancy. Unless any damage is cause by you or your fellow tenants.

Easy move: make sure you've got removal sorted and you know what you're taking and how much space you have. After signing this should be your next priority to avoid a difficult move and make it an easy and pain-free stay.