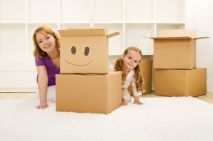 Tips For Temporary Home Removals to Manchester
Moving home can throw up a number of issues that you hadn't bargained for, and one thing that many of us take for granted when we start to consider moving house, is the likelihood of having to spend a little time between houses. It can happen very easily; you find the perfect place, but it is only available after you need to leave your current residence, so what can you do? Relax, there are a few things to sort out and you should be fine, especially if you have a helpful family and friends to look after you! Here are our handy hints and tips for temporary home removals to Manchester, or wherever you may be heading!

To start with you need to get to grips with the logistics of the move from an early point. Give yourself a couple of months or so in order to get everything planned and ready for the process to start. Having everything sorted will make you much more relaxed amid the hustle and bustle of the move, and will likely make things much easier for you and everyone around you. Start by making sure that you have a place for your family to stay while you are between houses. If you have relatives with spare rooms, then you may be able to arrange to stay with them for a couple of days each. It is best to stay for a shorter time at each place, as it will reduce the strain that you put on your relationship with the relative or friend in question! If you do not have anyone who can help you out at this point, then look in to hotels and boarding houses, or even lodgings. Search the internet for people who will rent out a room on a short term basis, and you should find a cheap option if hotels are too expensive at present.

Depending on how long you will be between places, or how much space you have wherever you are staying, it is likely that you will be in need of some sort of storage. Sorting storage in advance will get you a decent price as well as meaning that you have another thing out of the way, and out of mind. If you look hard enough you can find smaller private land owners who rent out garages and barns for much cheaper than the larger storage places will offer, so it is worth doing your research in order to get the best price. Be aware that storage will be cheaper outside of city centres, just as rent is, so if you can afford to travel, then it may reduce your costs a bit extra. Be aware though, of that which you are storing, as some items are very easily damaged by temperature changes and damp, so the conditions of your storage selection is equally important.

Coming to terms with not having a house can be quite a stressful process for younger members of the family, so be aware of their needs and chose your temporary residence adequately, with them in mind. Go and look at hotels or hostels beforehand, so that you don't turn up to find it a squalid place, well below the standards of living that you require. Keeping the family happy and healthy during this time will be a massive help to raising spirits and morale and making the whole thing much less of a nightmare!