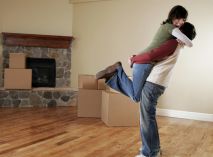 Renting a Removal Van Wandsworth
'The adventure of renting a removal van Wandsworth' may sound like the title of the most boring book ever, but if you do not know what you are doing, then you may well be taken for a ride by opportunist rental companies looking to make a quick buck off of the ill-educated! It may be an adventure of sorts, but it will not be a good one if you find yourself paying an arm and a leg for the privilege of using someone's van! Getting the right van for you will come down to a few factors, and if you know what to expect, and what to look out for, then there shouldn't be too many surprises along the way.

For a start, are you only looking to rent the van, or do you need a driver as well? Many normal people are not very well versed in driving large vehicles, and will therefore be a bit nervous about manning the wheel or a large van or truck, especially in London's famous traffic. If this is the case, then you will have plenty of options to hire a driver as well. If you only need the van, then there are also a few different routes that you can go down.

Firstly, van only. There are thousands of car rental companies across the UK, so you should be able to find a competitive quote for your van needs. Companies will rarely if ever rent a car or van to anyone under 21, and are still less likely to rent to you if you are below the age of 25, so keep this in mind when you start looking. Firms of car 'clubs' like street car, are clever membership organizations from which you can rent a car or a van very easily and for not a huge amount. This is great if you are looking to rent a few times a year, but for a one off job, can be a bit of a laborious process, with all of the signing up it can entail. Make sure that you are aware of all of the fine print involved in getting hold of your car, as well as the insurance costs and other potential hidden charges which will throw the value of the quote out of the window.

If you do not have the extreme confidence to drive a large van through London's busy streets, then you may need a van that comes with its own driver. There are plenty of removal services around that will do this kind of thing for you, and they can often be cheaper than getting hold of a van yourself! If you think about it, a company that gives a van to a stranger for a couple of days, will be charging just as much for the risk involved in loosing that van while it is out of sight, as a person who rents his van out, but will be able to stay with it as they are driving the job! Keeping this in mind can mean the world of difference in the route that you go down, so be well aware. If you are just after a van, then a Wandsworth man and van service is the one for you, where the hourly rate will be pretty low, for short jobs. For larger ones, you may want an overall costing for the job, in which the things can get a bit more expensive.

Good luck, and happy moving, we hope it all goes smoothly!