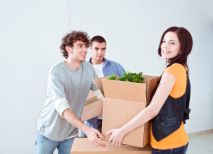 Benefits of hiring a Man with a Van service
You may be stuck in your ways when it comes to moving house. If you have completed a couple of moves in the past, you may have a good idea as to how you like to go about things, and often it is best to stick to what you know for ease and comfort. You may however have been doing things in a slightly uneconomical manner, which when reassessed could save you a fair amount of money! If you are doing a small move, then it is highly unlikely that you will need the full services of a removals company, and if you are looking to spend as little as possible, and don't mind getting your hands dirty, then the benefits of cheap man and van services can be extremely useful.

Finding the best price for your man and van service is the most difficult part of the job, and is understandably the most important part if you are trying to keep costs as low as possible. The places to start looking for the cheapest services are the Internet, or the local ads. If you can, be very specific as to where the service is based in comparison to your start point, as this will affect the price. A man and van will charge extra if they have to travel at all far in order to pick you and load everything in, so try and find a van that is based very close to you. Be aware that the further you travel, the longer the drive back for the man, and this may well be accounted for in the final price. The best way to get to grips with the costs is to ask for a breakdown of the final price from the person giving the quote. Some companies will be able to give you a flat quote, which can work well if there is a risk of traffic. Most Man and Van services however, will give a price per hour, or even a price per mile, usually depending on the size of the job, or the distance, whichever is larger.

Often the best way to make the move a cheap one is to use a private van owned by a man who is looking to make some extra money, rather than a proper outfit who have overheads and other costs to consider. The smaller outfits will often have a more personal touch as well, and this can be nice to deal with, as you may find yourself in the van for a couple of hours with the individual, and being able to have a chat can make things much more comfortable! Finding these standalone services can be tricky, and the best place to look is usually the local ads, but if you are still having trouble, then try being more resourceful and look at the notice boards in rehearsal studios or anywhere that transportation may be needed regularly. Once you have found the right service for you, you will often find that you use them time and time again, so getting the right person is imperative for the future as well!

Getting the price right for your man and van service can make all the difference when you are moving, and if you take the time to do all of the appropriate research, then you should find it fairly easy. Don't be scared to haggle a little to get the right price, and make sure that you are with the van at all times; you don't want everything to go missing!