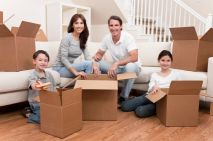 Looking for a reliable, experienced removals company in SW6?
Moving house is costly, when you take in to consideration the fees and charges involved in buying and selling property. Due to this many people try to save money by opting for cheap SW6 removals. However, with anything, there is a right way and a wrong way to find and experience the best money saving services out there. Here are a few ways you can save money but still get the best SW6 Removal service.

• Get Quotes
The only way to truly appreciate whether or not you are getting the best price possible is to compare lots of quotes. Whether you are looking to hire a SW6 Man and Van service or a removal company, you should make sure you allow them to assess your items so that you can get the most accurate quotes. Allowing more than one company to come and assess the size of your move will mean you can gather and compare quotes to find the best and most budget friendly one for your needs. However, don't fall in to the cowboy trap! If a quote sounds too good to be true then it probably is. Make sure you clarify with the company what it is you will be getting for the price you pay. If you don't, you may find the service you have paid for is somewhat lacking. Make sure that your company is professional and respected by asking friends and family for recommendations. This will mean you can be certain that you will be getting a good service for your money. In the end of the day, it may be better not going for the cheapest quote you get if you are unsure of the professionalism of the company. Saving money on the price of the removal is important but it will cost you a lot more than the price of the removal to replace all your stolen possessions if you choose a dodgy removal service.

• Negotiate
If you have found a company perfect for your SW6 removal but the price is still out of your budget, then attempt to negotiate a better price with them. You will find that Fulham removal companies will charge more during peak times such as school holidays and weekends. By opting for an off peak time your removal company will be more willing to offer you discounts on the price of your move as it will help them to fill up less busy times and to spread their workload. As well as this, many companies will offer you discounts for sharing a van with someone what is moving to a similar location as yourself. This is particularly beneficial for anyone with a small amount of items and a small budget. This will not only cut costs for you and the company but it is better for the environment as it reduces the fuel used during your move.

• Reduce your load
The best way, however, to reduce your costs during your Fulham move is to reduce the size of the load you need to move. By recycling and throwing away unwanted clothes and household items you can reduce the amount of things you need to box and relocate to your new property. Taking any sellable items to a car boot or selling them on online auction sites can help you to gather extra funds to reduce the cost of your move. This in turn will reduce the amount of packing materials you will need to buy and will reduce the size of the vehicle you will need to hire for the relocation. Using clothes and bedding to pack and wrap items will also minimise costs as it will reduce the amount of boxes and bubble wrap you will need to buy for your move.