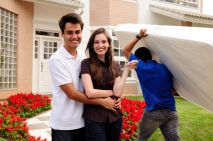 The First Steps You Should Take When Packing
Moving house is a time-consuming process and since most people do their own packing, allowing enough time for it is of key importance. It is advisable to begin planning and packing at least 6 weeks before the moving day. Last-minute packing should be only for packing your essential bag and the things you will be using until the very last day before the relocation. Packing is a long and tiresome process, there is no question about that. Being properly prepared is your responsibility and here are the things that you should consider.

Where Should You Start?
First and foremost, starting the packing process is all about the plan and the organization. Before you even gather the packing material and supplies, you need to determine what you are going to take and what you will leave behind. This process often takes days to go through your entire household and decide what to part with. Since packing material is expensive, as well as the fee for transporting your shipment, the more you take, the higher the price of the move. It is simply not reasonable to pay for moving things you don't even use or need anymore.

After that you need to start collecting your packing supplies. Ensure that you have enough of it, as some items require more padding and a few layers of wrapping. You can collect moving boxes for free from department stores, pharmacies or grocery stores. The other option is to buy packing materials in bulk online. This way you will get everything you need in one place and you can even find a very good deal. Start packing the non-essentials first – things you don't use every day such as books, photo frames, paintings, some appliances, clothes for the other season, sports equipment, figurines, etc. Some of your cutlery can be packed too – after all you don't use everything every day, do you?

Get Organized
After you have taken the first steps of packing it is time to get organized and do things like the professional movers. Label the boxes properly and take the inventory as you go. This will assist both the movers and you during and after the move. Don't forget to put specific warnings on the boxes top and sides: "fragile", "this way up", "open first". If you don't want to open each box and go through it in the search of a specific item, put special labels on each (the room they will go in and roughly what's inside). Try not to mix up various items: books with figurines or photo frames with toys. Keep them well-sorted and the move with go smoothly.

After the move is complete it's your responsibility to check whether everything has arrived and your belongings are intact. If you need to make a complaint or use the insurance you need to check the boxes and the furniture within a short period after the move.

When it comes to special items – large artwork, musical instruments, motorbikes, items in weird shapes – it's best to trust the movers as these items need special packing and handling. Remember that you need to think of the safety on the moving day as well as during packing- don't overfill boxes (keep them up to 20 kilos) and don't bend your whole body in order to lift them, but kneel and then lift using your lower body strength. Be careful not to strain your back and drink plenty of water during the packing process.