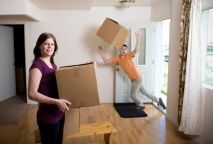 Questions to Ask Before Hiring a Man and Van Removal Bermondsey
When it comes to moving your belongings, whether it's a house move or office relocation, there are a lot of things to consider. The most important of which is often, what type of Bermondsey removal service you will need. When looking in to your options you may find a man and van service is the most appealing. However, before you make your decision here are a few things to ponder:

• How big is the job?
A Bermondsey man and van service is exactly that. It is a man with a van who will transport your load for you to its destination. Due to this is it important you have an accurate idea of just how much space all your items will take up. One of the most common problems people face on their moving day is that they have underestimated how much stuff they have to move. If you have a large amount of things to be moved you may find that it will not all fit in a van at once. This may mean you will have to do more than one trip to and fro to get it all moved. Some man and van Bermondsey services will do this but you may find that many services aren't willing to travel back and forth ferrying large amounts of items as they are on a strict time limit and have other customers they need to get to. If you feel like you might have more than a van load then you must be honest with you man with van and make sure that they are aware of the size of the job. That way they can either accept the job knowing exactly what it will entail or they can point you in the direction of a Bermondsey removal service that can provide you with a bigger vehicle to accommodate your items.

• How far is the move?
When considering hiring a man and van service it is important that you take in to account the distance you need your items moved. You may only have a few items that will easily fit in a van, but if you need them moved a long way you may have to consider other options. This is because man and van services often only operate in a localised area as this means they are able to do more jobs in one day. Some man and van services may be willing to travel further afield for you but you may find this greatly increases the cost at it will mean you are taking up more of their time. However if you are only moving locally then a SE1 man and van service will be perfect for you.

• How fragile/valuable are your items?
However, before you sign on the dotted line and book your move date there is one last thing to consider. A man and van service isn't specialised in transporting certain items as they transport anything from office documents to excess stock. Due to this they are not specifically furniture of house movers. This means they may not be able to deal efficiently with large, bulky or fragile furniture or household items. So if you have something particularly delicate or hard to lift, pack or transport then you may be better off looking for a specialist removal company that are equipped to deal with specialist removals. However, if your items are not particularly specialist, or are packed in boxes that are easily stackable then a man and van service will be perfect for you.