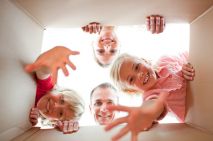 Things to Look For in a Moving Company
Hiring professional assistance is an absolutely vital part of a Putney home removal in the modern day. In our materialistic world and with all the complications and third parties involved in moving, the moving process is nothing short of a huge burden, so trying to make your actual moving day as stress free as possible is a natural response. One of the more obvious ways to do this is to hire professional help in the form of one of Putney's many removal services, namely a Putney man and van hire. There are a huge number of benefits to hiring a man and van service for your move, but as with all things, there are good and bad options for you to choose from. Though hiring professional help is a good start to making your move an easy transitional process, choosing the wrong service for you will only hamper your ability to execute a successful move. Below are a few things to look out for when choosing your SW15 removal van hire that, if followed, will hopefully allow you to choose a professional removal van service of a high quality.

Initially, it is important to look at the small print of the contracts that are offered for you. If the company doesn't offer a contract then your decision is made for you – don't sign with them! A company not willing to offer a contract may well not be meeting certain regulations on vehicles or employment laws and this could be to your detriment during your move. This is the last thing you want on your moving day so it is best to avoid the risk. However, also in the contracts will be details as to how the rate of pay is judged. This is important as whilst the advertised base rate may be appealing, there may be certain restrictions on this such as the working hours, the distance travelled or the amount of journeys required. As such it is best to always check that the contract shows a stable and easy to understand payment system.

Furthermore, many contracts (especially with man and van services) will look to outline what kind of insurance policy is available within the service. This is important as it may well be the only form of protection available to your possessions in the moving process as home insurance can often be a blurry and complicated matter during moving periods. It will also offer peace of mind to you at a very stressful time. Many services will look to offer a comprehensive policy but it is important that you check this is the case before signing on to a removal van hiring service. Nothing will place a negative mood over your move than irreversible damage to your favourite piece of furniture or prized possession, so doing everything in your power to stop that is important.

It is also important to remember that the cheapest service shouldn't necessarily be the most appealing service when looking at removal van hire. Some services are cheaper because they simply don't offer the same level of service as other companies. This could manifest itself in the contract as explained earlier but could well be the experience level and professionalism of the employees or the quality level of the items you are using. It can seem an easy way to save some pennies at a very costly time, but ultimately when putting the cost of a low end and high end service in perspective compared to the total cost of your move, you will soon realise that it proves almost nonsensical to go with the cheaper option if it compromises the safety of your possessions.