Bow'S MAN AND VAN
Hire Our Competent Man and Van Hire To Help With Smaller Moves
We are a reliable and safe option when you want some goods moving in and around the Bow area. Nothing is too much for our man and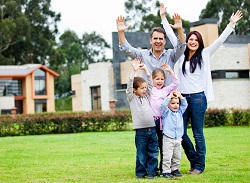 van hire, from moving a student to another area, to delivery and collections for EBay we can help out in all circumstances. Often you find yourself needing a smaller removal service and our reliable man and van hire is the answer. To people in the E14 area, we are here to help for them occasional times when you want a large bed moving, wardrobe or a small load of personnel belongings relocating. If you are in need a man and van hire in the E3 area give us a call now on 020 8746 4330. All of our vehicles are new and completely trustworthy, with all of the relevant insurance cover and breakdown cover. We guarantee we will not let you down. You will get a top rate service for an excellent cost. All of our drivers will pack your goods with care and safely and unload at their new location.
• All of our vans are modern and have the latest GPS systems
• Free estimates available
• Skilled drivers who load, deliver and unload
• Affordable prices that will suit all
• Reliable and prompt
Our vans are all available in different sizes to suit all and are equipped with lifting gear and protective blankets to keep your load safe and secure whilst on the move.
Use Our Trusted Removals When You Are Relocating
Our removal company is a long established company with years of experience in this business. Over the time we have grown and improved to be one of the best removal services in and around the Bow area. If you are on the move in and around the areas of E3 and E14 then get in touch now. You will be amazed at how capable we are. All of our removals are done to a high standard because we know that is what you expect. When you are paying for a service you want dedication, promptness and competence. We are organised and will plan first class removals service whether you are a business or domestic customer. You can book a meeting to go over what you need moving and we will supply an accurate price. Our drivers and loaders are skilled and take care when moving your belongings. You can request for as much help as you want. We will fit in with your busy schedule and do a proficient job. All of our transport is new and maintained regularly for your reassurance.
• Guaranteed services every time
• Experienced and helpful staff
• Modern, spacious and safe transport
• 100% customer satisfaction
• Tailor made services to suit all individuals
Whether you want the contents of a house or workplace we can handle it with care and caution at a cost we know you will be pleased with.
Our Reliable Man With Van Hire Is The Most Excellent Choice When Moving Items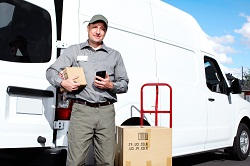 Sometime we need to shift a huge piece of furniture to another home, or a load of items to another location. Whatever you need moving in the Bow area, hire our reputable man with van hire now to help assist. Our reliable man with van hire is the first choice for clients who need a smaller removal service within the E14 area. We save you the cost of hiring a means of transportation that may be too big for you. Why waste money on a company that is too big? You can rely on us to not only deliver your things safely but we will load and unload carefully. You get a driver who doubles up as a loader and packer with our professional man with van hire services. Whether you are moving business stock or home contents in the E3 area, hire us today. All of our vehicles are the latest models and are equipped with lifting gear and the best satellite navigation systems. You are guaranteed a first class service at a cost that is within your means.
• An assortment of vehicle sizes to suit different needs
• Fuel effective models
• Open 7 days for business
• Flexible to sit in with your needs
• Competent staff with experience in this business
All of our services are done to a high standard and will astound you. Call us now on 020 8746 4330 and discuss your requests with our helpful and friendly staff.
Use Our Quality Storage For All Of That Excess Baggage
There are lots of times when you find yourself short on room. Are you in the Bow area and have too much clutter in the home, or surplus business stock, or a specific object like a classic motorcycle to hoard then get in touch with us now because we can help. We have a range of storage solutions to help out in all predicaments within the E3 area. You have a choice of sizes and security levels, at prices that are reasonable. All of our storage units in the E14 region are modern state of the art units and are safe and secure. We have the latest electronic security monitoring the facility at all times. You will be amazed at the alarms, monitors and cameras we have keeping everything safe. Our storage facilities are clean and dry, so all of your belongings will be kept in good condition. From short to long term we are here to help out for time lengths to suit all. From commercial to personnel requests we can deal with them all competently.
• 24 hour manned security
• Storage deals custom made to individual needs
• New and modern commercial storage
• Storage space to suit all clients
• Affordable deals with no hidden fees
Let us help safely store your things now. We are here to solve all dilemmas from problems when moving home or decorating, we can simply help arrange the best solution to store your possessions safely.
Use Our Qualified Packing Service to Get The Job Done Quicker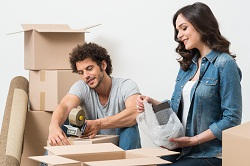 Moving house or office is a stressful event and takes time. One of the biggest jobs is the packing and getting everything together into boxes and bags, etc. Our reliable packing services are the first to call if you want some assistance with the tedious chore in and around the Bow area. In addition, for a small cost we supply high quality packing materials to do the job. Often when you come to do the packing it is hard finding the right box for different objects. We have a number of sizes that can suit most possessions and keep them safely protected whilst in transit. If you are on the move and need some help in the E3 area then hire our packing services now. We supply a first class job and will get it done a lot faster than you could do. For prompt packing services using the best quality packing materials within the E14 area call us on 020 8746 4330.
• Excellent quality supplies available
• Competitive priced supplies and services
• Caring and cautious staff
• Available when you need us
Packing needn't be a boring chore! Let our experienced and knowledgeable experts lend a hand and get it done properly. We guarantee everything will be packed with care and arrive with no damage at your new address.