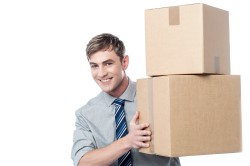 How to choose the best removals company?
When undergoing any type of removal or relocation project, chances are that you're going to have to book with a removal company. But which company to pick? There are so many companies out there all vying for your attention by offering you special deals and discounts, but how do you know which ones to trust and that you'll be getting the top quality service at a decent price that you require? There are things that you can do to separate the first class well established companies from the new kids on the block. So to ensure you pick the right company for your move and that you get the best possible service to meet all of your requirements, take heed of this advice and begin doing your research.
1. Start making calls well in advance of your move.
Don't leave your research until a couple of days before you have to get moving. Do this and you could be left with an inexperienced company that may end up delivering you with a substandard service. If you leave booking a company until the eleventh hour, knowing this, many companies may take advantage of the fact that you're short of time and are booking them at short notice, so they may increase their prices. But begin making calls weeks if not months before your moving day and you'll have enough time to plan, ask plenty of questions, compare different companies and ensure that all your needs are met so that you're left with a removal service that ticks all your boxes.
2. Be wary of companies that are offering services at prices what you deem to be really low.
Price isn't everything when it comes to choosing the right service. If you notice a service being offered at a really low price, think about why the price is that low. Inexperienced companies that are just starting out may feel the need to offer services at very low prices to attract new customers, so bear this in mind when hiring any services.
3. Parking.
Make sure that you're clued up on the parking arrangements and facilities at your new place, because you don't want to turn up only to find that there's no parking in front of your new house. Lugging large, heavy and awkward to carry items of furniture half way down a street can be a nightmare and real struggle, even for a professional team of house movers, so try and get some parking directly in front of your house. If you're moving to a residential area, it could be worth meeting and chatting to your new neighbours before you move, letting them know that you'll be moving on that particular day and that there'll be a large van parked out front. You never know what this might do for you, because if you're friendly enough, they may even move their own cars and make space for your vehicle so that you can get your items unloaded and unpacked as soon as possible.
4. Ask plenty of questions before deciding which company to book with.
Good professional companies should be able to supply you with easy answers to some basic standard questions. Ask about insurance, what types the company can offer and what's covered in the cost. Ask about the experience of the company, what types of moves they've helped with in the past and if they've ever experienced any problems. If they claim to be experienced, they shouldn't have any trouble providing you with a list of references, so plough though these and see if the company seems good enough for you and your specific needs.