Large Boxes for Moving House
To be honest with ourselves, when most of think of moving house, we get a mental image in our minds of an empty room with loads of boxes stacked up. Have you ever thought about the significance of this 'stack of boxes'? The humble 'box' is the all essential tool that you would need to ensure that your belongings are protected during the relocation. However, they can cause you quite a bit of worry. Arranging for sturdy, strong boxes of various sizes can be a tricky deal, especially if you are not using a professional removal company. During the move, you have to be mindful of how you pack your things in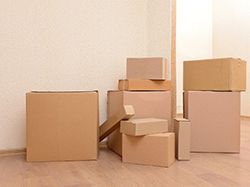 them and once you are done with the move, you will have to find a way to get rid of or store them. If you are faced with any of these problems, read on to find the solution.
Acquiring boxes
While there are a few items you will carry on your own, most of your goods are probably going to be put into boxes and travel with a man with a van. This means that you will need a lot of boxes, which most likely you will not find in one place other than with your moving company, where you will have to pay to hire or buy them.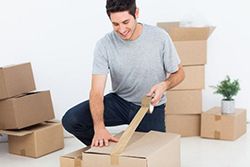 So get street smart and exploit other cheaper options. Scourge your attic for old but reusable boxes that you put away when the TV or refrigerator arrived first. If not, you can visit any supermarket in your vicinity and ask them if they have a few boxes to spare. If you have to buy boxes, your best bet is to shop online. Yes, you can order packing boxes on various websites but be sure to compare prices on multiple websites to seize the cheapest deal! A lot of removal companies may provide boxes for free too.
Filling boxes
If you think that getting the right boxes is the toughest part, wait till you have to pack them. The best strategy will involve using all the space you have to the fullest but that is much easier said than done! When packing in boxes,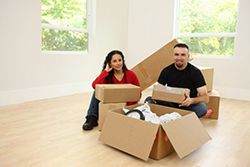 always try to put the heavier items below and the lighter items on top of them. Do not overfill the boxes. A good way to protect your breakables against damage is to fill the spaces in between with clothes, towels, bed sheets, pillows and cushions. Make sure you wrap the edges of the boxes several times with tape so that they hold out. Also, label the box with its contents and which room it goes to in your new house. Not to forget, mark if fragile and needs to be handled carefully.
Getting rid of boxes!
After you are done unpacking, you will be left with empty boxes to take care of. If you think you do not have the space in your attic or basement to store them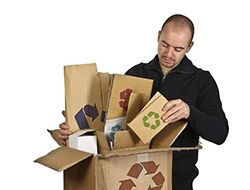 until such time you will need them later, then you can do one of the following things. Instead of throwing them away in the dustbin, you can sell them online or give them away to someone you know who will be moving shortly. You can also use them for storage in your garage or elsewhere, or return them to the movers who will take care to reuse them. If you can't find an immediate taker, you can leave them with the local supermarket that can always find many people who would need them or put them to good use in the shop.